You're Not Gay: Homosexuality Anxiety in OCD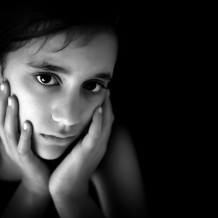 Am I Gay? Obsessive-Compulsive Disorder Takes Many Forms
by Mark-Ameen Johnson
The Rules
Hello there! My name is Mark, and I am a gay male with obsessive-compulsive disorder (OCD). I am writing for the benefit of heterosexual folks who hope to use this article to understand their fears about being gay (also known as gay OCD or HOCD). No worries, my friend: If you are trying to understand yourself or someone close to you who has HOCD, you are reading the right article.
Rule one: If you say you are heterosexual, then you are. Period.
Rule two: There are no other rules.
Thank you for taking the time to read and obey the rules. I am a teacher in my real life, and I always spell out the rules early on.
Now that we are coming at this from the same mindset, please bear with me as I walk you through HOCD.
What is Homosexual OCD?
In November 2004, real-life stress was playing havoc with my emotions and OCD. I had been off medication and out of therapy for years, and I needed a place where I could talk about personal issues. Searching under OCD and gay, I discovered the old BrainPhysics discussion board and decided to post. I thought I was joining a board full of gay people with OCD. Only ten minutes after I had started reading the most recent posts, however, I realized that something was wrong: The folks with gay fears were clearly not gay. It took another five minutes for me to figure out what HOCD was and why so many people had gay obsessions. "Well, duh!" I thought. "This is an OCD board. Of course they have false obsessions."
Before my own OCD was treated, I had suffered for years with obsessions about natural disasters, religion, my health, and being rejected. What I saw in the HOCD obsessions mirrored the anxiety, checking, illogical thinking, and broken record quality of everything I had experienced. HOCD felt real to its sufferers just as my own obsessions had felt real to me. Again, duh! OCD always feels real. If it did not, it would not be OCD. It plays with your mind, making you believe lies and doubt truth.
I would later learn that truly gay people may also get HOCD, but that they falsely fear that they are heterosexual. Bisexuals with HOCD have the false fear that they are attracted to only one sex, usually the one they are not currently involved with. These facts alone should help straight HOCD folks to see that they are indeed straight. HOCD is an illness, and who but a gay HOCD sufferer would fear being straight, the thing society prizes? Just as HOCD obsessing over being straight = gay in reality, HOCD obsessing over being gay = straight in reality. Straight folks with HOCD know deep down that they are not gay. But I am getting ahead of myself.
I turned 40 a week ago, and I have been out of the closet for almost two decades. In that time, I have helped other truly gay people come out of the closet. If I thought for a minute that even one of the straight HOCD sufferers on the board was gay, I would do the same for him or her. Yet, while I have done my best to help many on the board, I have helped no one come out of the closet.
The Mental Agony
As of this writing I have been bombarded by threads, private messages, e-mail, and instant messages by straight folks terrified that they are gay (and a very small number of gay and bisexual folks terrified that they, too, are not their real sexual orientation). My initial assessment of HOCD stands firm: Whatever HOCD tells the sufferer is a lie. I have had the wonderful experience of talking to people who had initially talked to me in HOCD mode but have since gone on medication and undergone behavior therapy; they now tell me that they are clearly heterosexual and don't know what they were thinking before. Yeah, well, I could have told them that. In fact, I did.
The only part of my initial assessment that has changed is my realization that HOCD is far more common in the OCD population than most people think. I don't think most OCD sufferers get it; I know I have never had it (although I could have gotten it and shudder at the thought). Nevertheless, it is sufficiently widespread to warrant more specialists in the field, more media exposure, and more understanding among therapists relatives, friends, and, especially, gay people who give the wrong advice. Before November 2004, I would have given the wrong advice, too.
So why do some OCD sufferers get HOCD when others do not? Who knows? Why did I have terrors about earthquakes and research them for close to two years when I never had, say, Harm OCD? Again, who knows? To a large degree, I believe, the mental daggers our OCD sends us are random. To a small degree, I also believe, they have something to do with what we fear most. In Harry Potter language, OCD has the same power as a Dementor: It fills us with our most unhappy thoughts and saps all happiness out of us. It is what a Boggart becomes, a manifestation of our worst fears. Of course, Harry learned to defeat Dementors and Boggarts.
But Why Fear Being Gay?
Like any monster, mythical or otherwise, OCD strikes when a person is vulnerable, and it only stands to reason that an OCD sufferer who stresses over the opposite sex for whatever reason (a break up, an abusive partner, no dates, too many poor dates, and so on) might get hit with HOCD. Still, I know OCD folks with poor self-image and terrible track records on dating who have gotten HOCD, and others in the same situation who have not. The random element is also a factor here.
Now that we are clear about what HOCD does, we need to talk about how it works once it hits. I am neither a health care professional nor a person with any skill in science; for this reason, my explanation is going to be in simple laymen terms. Imagine a parent whose child has not returned home at the appointed hour. The parent then hears about a fatal accident nearby, and he or she goes into panic mode full of what-ifs and dread. Worry for that child takes over all rational thought, and reason does little to quell the parent's anxiety. Suddenly, the child walks through the door unharmed or calls to apologize for being late. The parent may or may not start yelling or simply hug the child in relief, but his or her fears are immediately put to rest.
Not so the OCD sufferer. We are in that very state of panic 24/7, and it continues even after we have proof that our fear is unwarranted. Catastrophic thoughts gets stuck in our malfunctioning brains, and illogical thinking makes us find ways to keep 'proving' the worst and disputing evidence to the contrary. OCD sufferers who fear contamination from walls not cleaned a 'special' way, for example, act illogically–but to them the fear feels real. I know that I was being ludicrous when I spent the better part of my waking hours expecting to die in agony, along with all my loved ones, because of an imagined natural disaster that was on its way. It felt so real at the time; now I cannot imagine what I was thinking.
HOCD works the same way: Heterosexual sufferers feel that the gay thoughts are real even though, in their hearts, they know that they are straight. Since HOCD depends on terror and illogic, no amount of reassurance works for long. The sufferer has to let go of the thoughts with a "Yeah, whatever" attitude and, above all, not react to them emotionally. When OCD sufferers freak out, they strengthen the hold OCD has on them. Behavior therapy (whether initiated by professional behavior therapists or the sufferers themselves) is the way out of the OCD trap. Medication, which need not always be permanent, can be a godsend since it speeds up results and helps sufferers control their symptoms.
Straight versus Gay
Before such treatment, HOCD (homosexuality anxiety caused by OCD) is all terror and rant. I am now going to type two imaginary rants. The first will be by a straight male who has HOCD. The second will be by an gay male who is in the closet but has no HOCD. Can you see the difference?
STRAIGHT MALE HOCD SUFFERER: I know that I am gay, but I have only ever gotten hard with girls. This must be because I am in the closet, and I know that I'll suddenly get hard with guys once I come out. But the thought of being with another guy makes me sick. Damn, gay stuff is so disgusting! I'd never want some naked guy to touch me that way. But my mind tells me that this is what I want, and that I'll be O.K. with it once I come out because I am gay. But I'm not gay! But my mind tells me I am. Dammit, why won't my mind shut up? I do all this checking by looking at gay porn, and I still don't know what I am. But I just want to look at hot women instead. I have never been attracted to guys, but I know I am a gay guy. This anxiety is killing me. I can't even hear the word gay without becoming anxious.
GAY MALE IN THE CLOSET WITH NO HOCD: I know that I am gay, and I have only ever gotten hard with guys. I am in the closet because I am afraid people will reject me, yet I have always wanted with everything in me to fall in love with another man who loves me back. That would be so beautiful. I was taught that gay stuff was disgusting, but when I think of being held by a man I get butterflies in my stomach. When I see a guy I like, it just feels right. The only anxiety I feel is over what others think of gays and how I think I'll be treated by straight people in power if they find out about me. I don't feel any anxiety when I think about how lucky gay guys who are out of the closet must be, and I wish I could be like them.
The second rant is what I would have said many years ago. The first rant is what I hear on the board. When I saw rants like the first one last November, I knew that I was not dealing with gay folks at all.
Continue to Part 2…